'Find Out More' is the resources area of hodderbibles.com
Please visit the links below for information about the NIV, frequently asked questions about the NIV Bible Apps, help finding the best text size for you, and much more.
About the NIV Bible
About the translators
About NIV Bible Apps
NIV Audio Bible FAQs
About text sizes
About the full NIV Bible range
About the NIV Bible
First published in the UK in 1979, the NIV Bible's combination of readability and accuracy quickly made it the most popular modern English Bible translation both here and around the world. In the meantime, of course, many other Bible translations have been and (in some cases) gone – and both the language we use, and our understanding of the Bible itself, have changed. It was always the intention of the Committee on Bible Translation that the NIV should change and develop, so in 2011 we were delighted to publish the fully revised and updated NIV Bible.
There are three main types of change in this revised edition of the NIV Bible, taking into account changes in the way we use language day to day; advances in biblical scholarship and understanding; and the need to ensure that gender accurate language is used, to faithfully reflect whether men and women are referred to in each instance. The translators have carefully assessed a huge body of scholarship, as well as inviting peer submissions, in order to review every word of the existing NIV to ensure it remains as clear and relevant today as when it was first published.
We publish an extensive list of Bibles in many sizes and different bindings which are ideal for church, school, individual or ministry use. Pagination for the new Popular, Lectern, Pocket and Cross-Reference editions matches the previous Pew Bible settings to within one page. That means churches don't have to move over to the new text in one go if they don't want to – and you can take your own Bible to church and read along easily.
NIV Bible Translation Philosophy
The chief goal of every revision to the NIV text is to bring the translation into line both with contemporary biblical scholarship and with shifts in English idiom and usage
The majority of what has changed involves comparatively minor matters of vocabulary, sentence structure and punctuation
Other changes reflect the advances in biblical scholarship over the last three decades. All of these changes aim to move the NIV from the English of 1984 to the English of 2011.
For a more detailed account of the new NIV revisions, download the translator's notes.
The Translators
The NIV has been fully revised and updated to take into account recent developments in language and biblical scholarship. The work is a result of a continual revision process carried out by the Committee for Bible translation, along with a unique peer review. For more information, download the Translator's notes.
For a list of committee members and more information about their work click here
The New International Version was commissioned by Biblica, formerly the International Bible Society, to create a translation that bought the reader as close as possible to the original meaning of each Bible. To find out more about their work today click here
NIV Bible Apps
Introducing the Bible reading apps from Hodder Faith.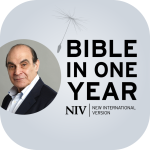 NIV Audio Bible In One Year App
Ideal for personal devotions or to read as a community, the NIV Audio Bible In One Year App arranges the whole Bible into 365 manageable daily readings, with an Old Testament, New Testament and Psalm or Proverbs excerpt for each day of the year. Combining the full text of the NIV Bible (Anglicised edition) with the award-winning audio narration by British actor, David Suchet, you can download all the audio at once, or one month at a time, depending on the space available on your device. You can also turn off the audio capability entirely if you wish to use the app for reading only.
The app also includes a journalling feature in which you can make notes next to the text as you study and bookmark your favourite passages for easy reference. You can then share notes and Bible verses with friends and family or yourself by SMS (text), email, Twitter and Facebook. There is also a full-text keyword search feature that helps you find all entries for a particular word in the Bible.
Read more about the NIV Audio Bible In One Year app or buy it here.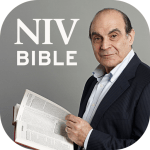 NIV Audio Bible App
Inspired by the universal appreciation and success of the award-winning David Suchet Audio Bible CD set, and the continued demand for the NIV Bible as an eBook, we decided to marry the two in app format, thus making the Bible accessible to a wider audience. The NIV Audio Bible App is now available on the App Store. It's a very simple to use Bible reading app, containing the NIV Bible (Anglicised edition) as well as David Suchet's beautiful recording. You do not have to be online to listen though, as the audio recording is included. However, that does mean you need to have enough space for it on your device!
As well as listening to Suchet's sublime narration as you read the attractively laid out Bible text, you can make notes and bookmarks in the journal tab. Mirroring the look and feel of the popular NIV Journalling Bible, this feature feels similar to writing in the margins of your print Bible – but neater! You can also easily share your favourite verses and notes with friends via social media or email.
Read more about the NIV Audio Bible app or buy it here.
NIV Bible App
If you want to access the NIV Bible quickly and easily on your tablet or phone, but do not want the David Suchet narration (or you already have it), the simpler NIV Bible App is for you. This app is exactly the same as the one described above, just without the audio element. The NIV text is very clearly presented and can be read easily on both iPad and iPhone devices and you can change the size of the text to suit your eyesight. It is very easy to navigate to the Bible passage you wish to read, either via the scroller, or the main menu, where you will also find short reading plans, a search function and shortcuts to key Bible stories, people and places. The journalling feature is also included here too.
The clever feature of this app is that if you have already purchased the NIV Audio Bible as a download from iTunes*, or have uploaded the files from the MP3 CD onto your iOS device, this app can automatically findthose files and synchronise them with the Bible text, verse by verse.
Find out more about the NIV Bible app or buy it here.
NIV Audio Bible FAQs
Will I be able to play the NIV Audio Bible MP3-CDs in my CD player?
If your CD player has an MP3 symbol somewhere on it, then it should be able to play the NIV Audio Bible.
If you have an NIV Audio Bible sample CD and can play it in your CD player, then the full audio Bible will work as well.
If your CD player is not compatible, but you have access to a computer with a CD writer, you can burn the NIV Audio Bible from the MP3 CDs onto ordinary CDs for your own personal use.
What other devices can I play the NIV Audio Bible on?
The discs will also play directly in the following devices:
– Home computers equipped with a CD or DVD drive, including PC, Mac and Linux

– DVD/Blu-ray players
– Games consoles, such as PlayStation and XBox
You can transfer the files via a computer to devices including the following:
– Google Android phones and tablets, including Samsung, HTC, Sony, LG and so on.
– Amazon Kindle Fire tablets and phones
– Apple iPhones, iPads and iPods
– Personal MP3 players
– Writeable CDs
Can I make copies of the NIV Audio Bible?
You can transfer the files onto other devices you own for your personal use only. You are not permitted to make copies for other people or publish the audio files online.
Why did you release the NIV Audio Bible on MP3 CD rather than ordinary CDs?
At over 80 hours of audio, conventional CDs would require around 70 discs, which would be prohibitively cumbersome and expensive. Most modern CD players can play MP3 files on CD, which allows much more audio to be stored on a disc without any noticeable loss of quality.
Releasing the NIV Audio Bible on MP3 CD format lets us provide it on only 6 discs and allows the vast majority of listeners to easily listen to the NIV Audio Bible on a wide range of devices.
Troubleshooting
I can't get iTunes or Windows Media Player to import the NIV Audio Bible from CD.
As the NIV Audio Bible is already in MP3 format, it doesn't need "ripping" (i.e. converting) like an ordinary CD. Instead they can just be copied by dragging and dropping the files to wherever you want them.
To copy the files to your computer, open the MP3 CD in Windows Explorer (PC) or Finder (Mac), and drag and drop the MP3 files into iTunes, Windows Media Player or into a folder on your computer.
I have imported the NIV Audio Bible from CD, but when I try to play it on my Android phone, the tracks are out of order.
The default Android music player renames any track number higher than 999, resulting in the NIV Audio Bible tracks playing in the wrong order.
RocketPlayer for Android is one music player available as a free download that plays the NIV Audio Bible tracks in the correct order. Other music players available in Android app stores may also solve the problem.
I have some audio missing in Galatians 4.
Unfortunately the first impression of the MP3 CDs had a problem with this track. This is corrected in later versions. You can download a replacement file here:
If you have this error in the Audible or iTunes download, please delete the files and re-download to get the updated version.
I've downloaded the NIV Audio Bible from Audible or iTunes and it doesn't give the book and chapter for each track – how can I navigate?
Unfortunately this is due to a limitation of the Audible file format, which doesn't currently support embedded track titles. The audiobook on iTunes is also published via Audible and so has the same limitation.
We have provided track listings as PDF files, which can be downloaded from your Audible library as an index to chapter and book references, or from the links below:
*Audible files currently not supported
Text Sizes
Our Bibles come in a variety of text sizes, ranging from the 'Tiny' at 5.3pt to the Clear Print at the RNIB clear print standard 14pt.
We understand how important it is to have an accurate idea of the size of the print of your Bible, especially if you are buying online. Download and print this helpful guide.
Full list of NIV Bibles
In case it is helpful to you, we have compiled a full list of the NIV Bibles we publish at Hodder Faith. This is a simple reference guide listing the title and features of each Bible so you can find what you're looking for at a glance. Download and print it here
If you would like a copy of our Bibles catalogue, let us know via the 'Contact us' page.
Permissions Guidance
Quoting from the NIV Bible
Thank you for your interest in using the NIV – the world's most popular Bible translation in modern English.
As the UK publisher for the New International Version, we love to see the NIV used by churches and other organisations in many different ways. Our aim is to enable the widest possible use of the NIV text by all and our generous free allowance is designed to make this as easy and accessible as possible.
Please find below our guidance notes for churches and other organisations including publishers, charities, theological colleges, schools and anyone else who would like to quote the New International Version.
1. Using the NIV in church services or resources
For use in churches, including bulletins, orders of service, posters, transparencies or similar media, including video, PowerPoint and other onscreen use:
– Use of the NIV Bible is free for these purposes
– Please put '(NIV)' at the end of each quotation
2. Using the NIV in published media (e.g. books, eBooks, magazines, websites, cards, artwork)
a) Are you quoting fewer than 500 verses and less than one whole book of the Bible?
Up to five hundred (500) verses may be quoted for commercial or non-commercial use in any form (written, visual, or electronic), without express written permission from Hodder.
Please use the following notice of copyright on the title or copyright page of the work:
Scripture quotations [marked NIV] taken from the Holy Bible, New International Version Anglicised Copyright © 1979, 1984, 2011 Biblica. Used by permission of Hodder & Stoughton Ltd, an Hachette UK company. All rights reserved. 'NIV' is a registered trademark of Biblica UK trademark number 1448790.
Please note: if the verses quoted amount to a complete book of the Bible or account for 25 per cent or more of the total text of the work in which they are quoted (based on word count), please contact us for permission as there may be a fee for this type of use.
b) Are you quoting or reproducing more than 500 verses or one or more whole books of the Bible. Does the Bible text account for 25% or more of the total text of your work?
Please contact us for written permission using the contact details below. There may be a fee for this type of use.
3. Using the NIV in a published commentary and other biblical reference works
Please write to us to obtain written permission for works of this kind produced for commercial sale.
Contact details
Hodder & Stoughton are the publishers of the NIV in the UK, EU and EFTA
Postal address
Hodder & Stoughton Publishers, Carmelite House, 50 Victoria Embankment, London, EC4Y 0DY.
Online
Our permissions process is handled by PLS Clear. Please visit https://www.plsclear.com/ and search for the ISBN of the Bible edition you wish to quote and follow PLS's instructions. If you want to quote from the NIV Bible in general, rather than seek permission for material from a specific edition, please search for and select ISBN 9781444701500.
USA & Canada
Postal address
Zondervan Publishing House, 3900 Sparks Drive SE, Grand Rapids, MI 49546, USA.
Online
Please see details for how to request permission at http://www.harpercollinschristian.com/permissions/
Rest of the World
Postal address
Biblica, 1820 Jet Stream Drive, Colorado Springs, CO 80921-3696, USA.
Online
www.biblica.com
CASE STUDIES
I am printing a Bible study for my youth group and I quote passages from the NIV
This kind of use of the NIV is granted under the free allowance. All you need to do is put '(NIV)' at the end of each quotation. See section 1 above.
I am making cards to sell which have an NIV Bible verse on the front or inside
Assuming the Bible verse will make up more than 25% of the total text of your work, please contact us for written permission. There may be a fee for this type of use. See section 2b above.
I want to print a bespoke Gospel to give to every household in my town
As you will be reproducing one whole book of the Bible, you will need to contact us for permission. See section 2b above. Alternatively, our partners Bible Society and Good Book Company provide custom Gospel and other Scripture portion products, depending on quantities and your specific requirements.
Bible Society
https://www.biblesociety.org.uk/products/custom-scripture-on-demand/
The Good Book Company
https://www.thegoodbook.co.uk/customised-gospels
I want to set the text of an NIV Bible passage to music to release for sale
Please email us with full details of the publication and the passage you wish to use. There may be a fee for this type of use. See section 2 above.
I want to record audio / video of the NIV and play it in my church service or on my website
If you are preparing audio or video recordings for use in a church service or recording/livestreaming your service which includes audio or on-screen Bible readings, these uses are covered by the usage allowance outlined above in section 1.
If you are creating audio or video material based on the NIV for other uses then you will need to contact us for permission if your usage falls outside the free allowance criteria outlined in section 2 above – for example, if you want to create a website or Youtube channel focused on Bible readings from the NIV. There may be a fee for this type of use.
I have written a book in which I quote the NIV
When 500 verses or fewer are quoted in published books, all you need to do is make sure the copyright notice listed above in Section 2a is included on the imprint page of your work. If the work is a biblical commentary or reference work, please contact us for special permission.
I am developing Bible software or an app – can I license the NIV to use in it?
The NIV Bible is already available via a number of websites and mobile apps but we are always keen to enable new and innovative ways to read the Bible, so do get in touch so we can explore how this might work.